The Road to Ypres:
The War Photography of Olive Edis Britain's First Official Female War Photographer
From Sunday 10th December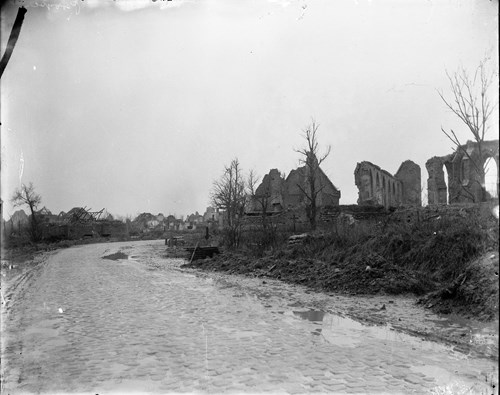 Olive Edis was one of the most important photographers of the early 20th century. At the height of her career she photographed the full spectrum of British society, from local fishermen and their families to prime ministers, royalty, scientists and artists. She was an exceptional portrait artist, a pioneer of new technologies, a successful business owner, and the first British woman to be appointed as an official war photographer.
Edis died in 1955, leaving the contents of her studio to her assistant Cyril Nunn who cared for the collection until it was acquired by Cromer Museum in 2008. In the 60 years since her death Edis has been largely forgotten by history, and her huge contribution to British photography sadly overlooked. Thanks to a grant from the National Lottery Heritage Fund, the Olive Edis Project at Cromer Museum has raised awareness of Edis' work and given her inspirational story the recognition it deserves.
'The Road to Ypres: The War Photography of Olive Edis' explores the unique collection of photographs taken by Edis during her month-long tour of war-torn Europe in March 1919. Edis was approached in 1918 by the Imperial War Museum's Women's Work Sub-Committee with a commission to photograph the work of the British Women's Services in Europe. Although the trip was delayed due to the precarious military situation in 1918 and some opposition to sending a woman to photograph an active war zone, in 1919 she travelled to France armed with her large plate camera, becoming the first British woman to be commissioned as an official war photographer, and one of only five British photographers ever commissioned to cover the First World War. Throughout the journey she kept a fascinating diary where she recorded the stories behind the photographs and her reactions to the destruction that she saw all around her.