Corporate Partnership
Partner with the Army Flying Museum and align your brand with our visitors and vibrant community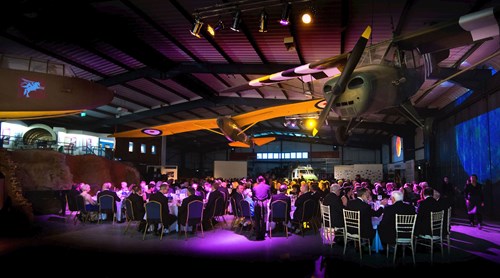 It is a real privilege to be a corporate partner of the Army Flying Museum. Land Rover's connection to the Army is historic and it is exciting to be able to support this fantastic local museum in this way.
There's never been a more exciting time to get involved with the Army Flying Museum.  The museum has recently undergone an extensive refurbishment programme and enjoys a constant stream of visitors all year-round.  It is a vibrant and iconic place hosting many exclusive in-museum and on-line events. 
Why Join Us?
Raise your company profile by aligning yourself with the Army Flying Museum's iconic brand of stories of courage and innovation
Meet and network at our popular events
Showcase your Organisation – your generous support is acknowledged on our Corporate Partner Wall and seen by thousands of visitors a year
Entertain clients or launch your product in our unique and iconic entertaining spaces
Gain access to our live web stream technology and people (used in our popular Lockdown Lecture programmes)
Impress clients and colleagues with exclusive access to bespoke Curator-led tours
Help us to inspire the workforce of the future through our STEM learning programme
Achieve your CSR ambitions through unique and specific activities 
Meet our Corporate Partners
Inspired?
To find out how we can tailor a corporate package to suit your needs please contact Ella Clayton on development@armyflying.com