The Army Flying Museum is proud to have signed
The Armed Forces Covenant
Proudly supporting those who serve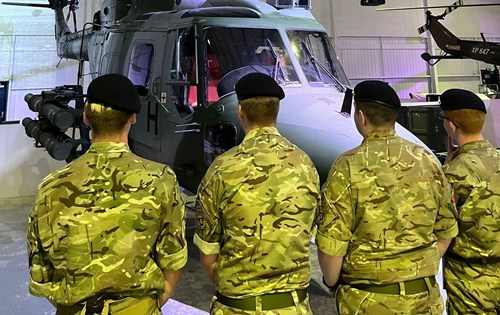 In January 2023, the Army Flying Museum were proud to announce that they had signed the Armed Forces Covenant.
Sir Gary Coward Chairman of the Board, stated 'I am delighted that we have joined the many other businesses and charitable organisations who have pledged their support for the armed forces community, a community that is extremely important to us. By signing the Covenant, we wish to highlight our commitment to supporting the military community and show how they are valued. We will do this by ensuring we fulfil the promises we have made.'
Lucy Johnson, Chief Executive of the Army Flying Museum, stated 'We are an independent charity with limited resources, but are committed to supporting the military community in any way possible. Whilst the majority of our funding comes from earned income, fundraising and events, we work closely with the MoD, and members of the serving and veteran communities to help promote the work of, support the people and provide opportunities for those in the Armed Forces.'
The Museum received the Bronze Award in February 2023 as part of the Defence Employer Recognition Scheme and has recently applied for the Silver Award. We certainly hope in time to develop and add to our pledges and ultimately achieve the Gold Award.
The Defence Employer Recognition Scheme (ERS) encourages employers to support defence and inspire others to do the same. The scheme encompasses bronze, silver and gold awards for employer organisations that pledge, demonstrate or advocate support to defence and the armed forces community, and align their values with the Covenant.
To learn more about The Armed Forces Covenant and the Defence Employer Recognition Scheme, please visit: -
https://www.armedforcescovenant.gov.uk/
https://www.gov.uk/government/collections/armed-forces-covenant-supporting-information
https://www.gov.uk/government/publications/defence-employer-recognition-scheme/defence-employer-recognition-scheme