Historic Army Aircraft Flight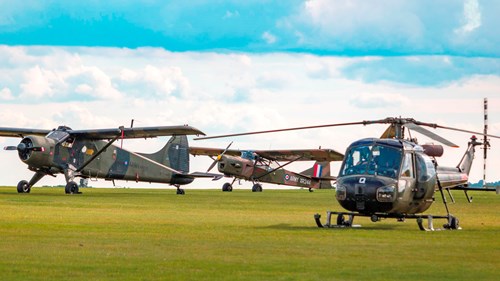 The Historic Army Aircraft Flight (Registered Charity No. 1024043) is one of the Museum's charity partners, located on Middle Wallop airfield next to the Museum. Like the Museum, the Flight's purpose is to celebrate and preserve the heritage of British Army Aviation, which it does by maintaining a collection of airworthy vintage ex-British Army aircraft aged from 60 to 80 years old.
The Flight has operated since 2015 and is an independent charity run entirely by unpaid volunteers, relying on public donations, grants and its own activities to raise the funds necessary to keep the aircraft flying. It is committed to inspiring the next generation of engineers and aviators, and maintains a busy schedule of outreach work supporting school STEM programmes, Cadet forces, veterans and the Army Air Corps. Aircraft are flown into many public venues, from small village fairs to major air shows and Armed Forces Day events.
You can find out more about the Historic Army Aircraft Flight HERE.