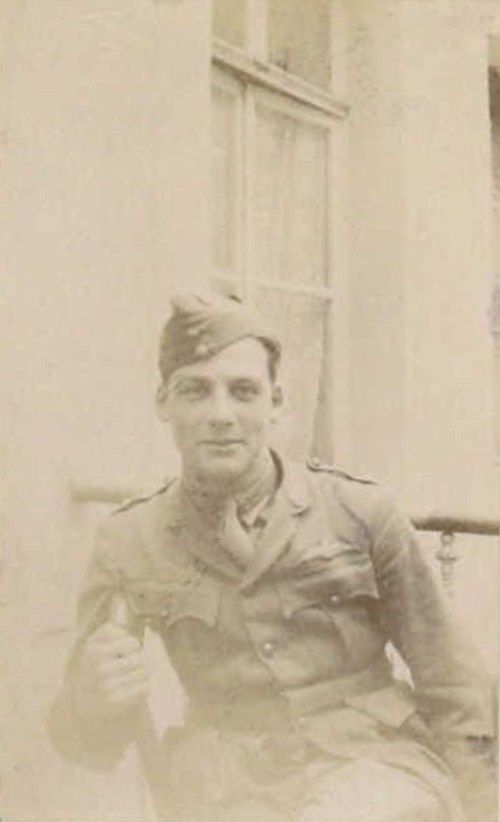 Captain Ewart James Garland was a Canadian-born Australian who flew with the Royal Flying Corps during the First World War.  He signed up in March 1916 and trained as a pilot at No 2 School of Instruction in Oxford. On the 7th of July 1916 then 2Lt Garland was appointed Flying Officer and received his wings after only 5 hours of solo flying. 8 Days later he was posted to No 10 Squadron on the Western Front.
On the 31st of July 1916 2Lt Garland's aircraft was hit by shrapnel. Together with his observer 2Lt JH Bickerton, Garland was flying a BE2c on artillery patrol. The shrapnel wounded Bickerton but Garland escaped unhurt. On the 20th of October that same year during practice night flying exercises, 2Lt Garland crashed his BE2c aircraft on landing. Again he escaped unhurt. In May 1917 Capt Garland was Mentioned in Dispatches and as a Temporary Captain he was eventually awarded the Distinguished Flying Cross before being demobilised from the armed forces.
Throughout his career Capt Garland flew a variety of missions and aircraft. He was an experienced pilot on the Avro 504, all BE types, the RE8, DH6 and DH7. His missions ranged from aerial photography to bombing raids and different flights could be performed on the same day.
April 1
Some flying though stormy – several fights over the lines.
April 2
Snow, hail and 60 m.p.h. wind – some flying attempted and several machines crashed by wind when trying to take off. Quite a number of Huns up over the lines – not long ago they rarely were seen in bad weather.
April 3
High wind and snow in morning – cleared after lunch. Took Baerlein for photos of Givenchy and area – very cloudy. When at 6,000 ft. a L.V.G. [a German aircraft made by Luftverkehrsgesellschaft m.b.H.] attacked us, but we drove him off. Later three Albatross scouts came at us. Baerlein's gun jambed, and the Albatross dived at us again and again, firing incendiary bullets, as well as ordinary. I side slipped and stunted and dived towards ground between attacks by the Huns – at last 5 F.E.s. rescued us. Our machine gun did not fire a single shot. Landed O.K. at aerodrome, and found 40 holed in machine, but camera undamaged. The photos are O.K. and being rushed to Canadian H.Q. by motor cycle.
April 4
No flying till afternoon. Took opportunity to go to dentist. Two Sopwith Triplanes landed. They are said to have very fast climb. My machine being repaired all day from shooting up yesterday. Our chaps report few Huns over lines, but air thick with British machines. The "big show" [Battle of Arras] has just about started.
April 5
Took Baerlein on photos in morning – two others and I had to take whole Corps area up to five miles back of the lines. Three F.E.s came as escort. I had 54 plates to expose. There were patchy clouds but we managed pretty well – no Huns attacked – time 3 hrs. Went up again at 5.30 to take whole of front line, which I did from 4,000 ft. All our best machines were out  today and the Hun did not bother us.
April 6
Again took Baerlein on photos – no escort – two other B.E.s were taking photos of next sector and I saw three Albatross scouts attack first one and then the other, quickly shooting down both in flames – one was Whitaker and the other Knight, who was with me yesterday. Both had observers. The F.E.s did their best to rescue, but were not fast enough. The same three Huns then turned their attention to me, but I kept a close watch on them and made off at full speed over our side of the lines the moment they turned in my direction. They did not attempt to venture our side of the lines and I managed to get all my photos while the Huns patrolled their side of the lines. As soon as they spotted me and turned towards me, I scuttled back over our side. I came back safely with the necessary photos, but felt a bit off seeing those two going down in flames. Went to No. 10 [Squadron] for lunch – it is very pleasing to be greeted well by everyone there.
April 7
About to go up on photos in morning, when lo and behold! The wonderful happened – I am to go back to No. 10 at once as a Flight Commander. Quelle guerre! The pity is that tomorrow is the "push", and now of course I'll miss it. Arrived at No. 10 in the afternoon, and the way I have been welcomed back by both officers and men is the proudest moment I have experienced. Both the General and the Col. congratulated me on my promotion. Went up tonight and dropped two 112 lbs. bombs on Provin aerodrome. Fire shells were shot at me all the time and searchlights tried to find me. I am O.C. of A Flight.
April 8
(Sun.) Lead practice formation flying, and then took photos of Aubers area. A Hun was above but did not dive on me. Went on bomb raid in the afternoon. All back safe. Took up new machine on test. Have just heard that McKenzie was shot down yesterday.
April 9
Smyth and Cooper have been shot down by our own barrage at Vimy. Took Hardy up - we had a look at Vimy Ridge .
April 10
Took up machine on test in morning – had to come back on account of rain and hail. Went up later on patrol – stayed an hour but had to come back, with difficulty, through storm clouds. It has hailed and snowed nearly all day. So far the Vimy Push is successful – they have taken most of the area that I specially photoed every day while I was at No. 16 Squadron.
April 11
Fetched new machine from St. Omer – 60 m.p.h. wind and bad bumps made landing a work of art. It snowed heavily in the afternoon. We spent the time fixing up the mess dining room.
April 12
Hail and snow with roaring gale – tried to take photos of lines but had to come back after an hour of rough flying.
April 13
(Fri.) Went on night bombing - had 12 twenty lb. bombs. Visibility was very bad and I lost all land-marks but flew by compass. Nine of us went at intervals of 5 mins. From 3 a.m. During morning took up a new pilot on dual control. Also flew an artillery officer to check camouflage of battery. As soon as I got back I went up again and took photos of lines from Loos to Canal. It was cloudy so had to fly low and was archied [Germany Anti-Aircraft fire] unpleasantly near.
April 14
Holmes had not come back from night bombing. We do night flying all the time now – generally six or nine of us at 5 min. intervals. Tried to get photos – too cloudy –saw a Hun but he made no attempt to attack. Probably on photos like us. Smyth and Cooper are reported recaptured by our infantry.
April 15
Rain and sleet – no flying – Bethune is shelled often but not heavy. The men gave a good concert which most of us attended after dinner.
April 16
Dud day – no flying. General Trenchard came to look round the squadron. He spoke to Snow and I. No. 16 chaps came to dinner.
April 17
Rain hail and snow storms – visited batteries with C.O. and went on to dinner at No. 16.
April 18
Again dud day. Drew has gone home.
April 19
Again dud – some practice flying done but cloud too low. Took up new machine on test.
April 20
Took up new observer over lines. Then was up two hours with Hardy on art. obs. [Artillery observation] – had a look at Vimy where I took photos – many shell holes are red with blood, which can be seen from quite a height. Jack Wischer came to dinner and squadron concert. Durham met Chas. near St. Eloi.
April 21
Cloudy – tested a machine. Had a ride on a dispatch rider's motorbike – Talked to a couple of wounded Huns – they were both only 19 yrs. old. And said they had no desire to fight.
April 22
Fine early this morning – Huns were over right back here – our Archie [German Anti-Aircraft] made a fool of itself and only frightened us by "dud" shells whistling about. Did a shoot for heavy howitzers on enemy trenches – was up 2 hrs.
April 23
Early patrol with Hardy – saw a bombing formation go over. During morning numerous Huns have been over – their activity is becoming much increased. Our scouts seem to be too busy on other side of lines to bother Huns over here. Did two hours patrol at dusk with Bulmer. Saw one of our formations do bomb raid – fired lights to guide them back as it was getting dark. Very cut up about news of Crow and Turner who have been shot down. That makes four of the six of us who went to No. 16 Squadron, and Baerlein and I nearly made the lot.
April 24
This morning we saw a fight between 3 Nieuports and a two-seater Hun which they brought down our side of lines – the two Huns were unhurt. Did two hours patrol with Hardy. In evening did shoot with heavy battery on enemy lines. We gave farewell party to Burrell.
April 25
We buried poor little Crow today – Neale, Stout, Snow and I were bearers. The same night Neale and Stout got M.C.s [Military Cross] and the D.S.O [Distinguished Service Order]. About time some of them got something. Cann of C Flt. [flight] was brought down by Huns landed our side wounded – his observer was not hurt.
April 26
Did 3 hrs. observing for 8" howitzers. Roux and Price were brought down by Archie [German Anti-Aircraft fire] in enemy area but were seen to land safely. Someone in the Squadron is brought down pretty well every day now.
April 27
Only did practice message dropping today from about 100 ft. James has gone home so that leaves Snow and I.
April 28
Led a bomb formation at dawn escorted by Sopwith Triplanes, but clouds came up and we had to break up and land. Went on photos later but was dodging huge black clouds most of the time. In evening we went on bomb raid again. This time we got there alright but were over cloud. The Sopwith triplanes were with us – no Huns seen. More bad news – Mason and Baerlein have been killed – that leaves Durham and I out of the eight who were posted to 16 Squadron. If we had not been posted back here there is little we would have been done in. Pearson has come back as a pilot – it is great to see an old face again.
April 29
Fine spring weather now. Did 2 hrs. with Bulmer spotting for arty [artillery]. Jack Wischer is among the killed at 16 squadron – Mason and Baerlein are dead but Turner is still alive.
April 30
Before breakfast tested new machine – in afternoon took up Morrison. He is a Canadian, and like all other Canadians I have met is very quick and seems adapted to the air. Went night bombing on Carvin – searchlights active and the usual fire shells were put up. Six of us went, at 5 min. intervals.
Captain Ewart Garland survived the war and typed up his diary in the 1970s.
2Lt JV Wischer and 2Lt AA Baerlein were taken prisoner of war on the 28th of April, they survived the war.
Lt HD Mason was killed on the 28th of April 1917 together with Maj EO McMurty.
2Lt CM Crow was killed on the 23rd of April 1917 while 2Lt ET Turner was injured that day. He survived the war.
Lt RV Kann was wounded in action on the 25th of April, his observer 2Lt C Bousfield was uninjured. Both survived the war.
2Lt CWD Holmes was taken prisoner of war on the 14th of April 1917. He survived the war.
2Lt EB Smythe and 2Lt S Cooper were wounded in action on the 9th of April, initially missing, they were found in a dugout near Givenchy. Both survived the war.