Archive Blogs
Hamilton E. Hervey MC* - Part 2
The second part of our blog series on RFC pilot and gliding instructor, Hamilton E. Hervey MC*.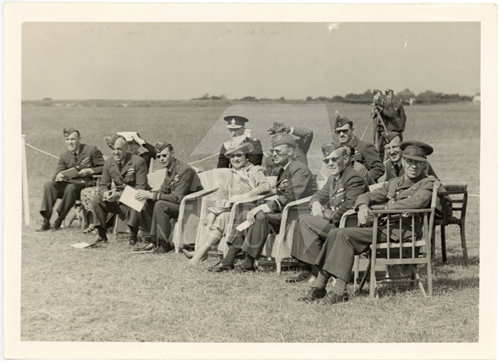 In early May Hervey, along with B. G. Horrocks (another serial escapee he had met at Zorndorf), Craig, Robinson, and some others were sent to Clausthal POW Camp, run by one of the notorious Niemeyer brothers. Hervey took his Dachshund puppy, Kleiner, with him. He also had to be more secretive about the escape tools which his wife had sent him. On arrival, the group began planning on ways to escape but none of the usual methods would work due to the heightened security. Hervey and a number of others attempted to escape by digging a tunnel but this was discovered after considerable work.
Hervey's last escape attempt was to leave via the orderlies' entrance. He and Mac disguised themselves as orderlies with the help of the camp theatrical group. Hervey even had a fake moustache. On leaving via the orderlies' gate, they then had to get past the outer gate. Hervey and Mac made a dash for it and eventually got out but were thwarted by a bucket of tar which Hervey kicked and tripped on while running. Both were subsequently captured. After the Armistice, Hervey and the others were returned to England and arrived back in time for Christmas 1918.
After repatriation Hervey was posted to No. 29 Training Squadron, based at RAF Croydon. Here he served as an instructor purportedly teaching the likes of Winston Churchill and the Duke of York, later King George VI, to fly. After demobilization in late 1919, Hervey was awarded a Bar to his Military Cross for his continuous attempts to escape. He also found himself without an occupation and decided to try his hand at farming. He went back to school to study Agriculture and in 1920 he married his long-time partner, Beatrix M. C. Tuckett, in Bristol where they both lived.
Shortly afterwards, the couple decided to emigrate to Australia, arriving in February 1921 in Melbourne. This was prompted by the Overseas Settlement Scheme initiated by the British Government in 1919 to help ex-servicemen to resettle in its dominions. On the Australian side this was dealt with by Australian Farms Limited (AFL), a private venture endorsed by the Committee to re-settle ex-officers from the British Army. Hervey and his wife were placed at their Tresco site in Northwest Victoria, which had been earmarked for development. It is here that Hervey and his wife began their work as fruit farmers. Significant complaints emerged over the following years from disgruntled settlers who had moved on the pretence of successful, profitable lands, which led to an inquiry. Poor drainage was the main culprit for low fruit yield as along with a high salt content in the soil. By the beginning of 1927 around a third of the settlers from the scheme remained. Hervey and his new family had also moved on and, in 1927, they were living in Port Melbourne, where he had returned to flying.
Hervey joined the Shaw & Ross Engineering and Aviation Company as a commercial pilot. One of its founders was formerly in No. 8 Squadron RFC with Hervey. He flew for the company for the next few years conducting taxi, aerial photography, and marketing services.
He also took part in the Australian Aero Club's Aero Derby multiple times, finishing second in 1928. He then helped establish the Gliding Club of Victoria in 1929, where he worked as an instructor, before helping set up the Victorian Model Aero Club in 1931 and the Central Aircraft Co. (Melbourne), another model club.
He was able to continue his boyhood hobby of model making and designed and built more than 30 model aircraft over the following years.
In 1934 Hervey's wife passed away at the age of 34. He returned to the UK in April 1935 with his only daughter, born in 1922. Hervey was offered a new position as Chief Instructor at the Dunstable Gliding Club on Dunstable Downs, north of London. He instructed at the Club for several years, teaching many to glide including the famous aviator, Amy Johnson. She qualified in September 1937. Around this time Hervey re-married, to one Constance Malseder, in London.
A few months after the outbreak of the Second World War, MI9 was established with the mandate of facilitating the escape of British prisoners of war from enemy territory. The new organisation needed people with experience to train and teach a new generation in 'escape-mindedness'. Several previous First World War escapees were brought on board, including Hervey, who joined the new branch in May 1940.
He also joined the newly formed Central Landing Establishment. The military had been seeking out civil glider pilots to assist with the implementation of gliding operationally. By the end of the year, he was the Commanding Officer of the Glider Training Squadron (GTS) at Thame, in Oxfordshire.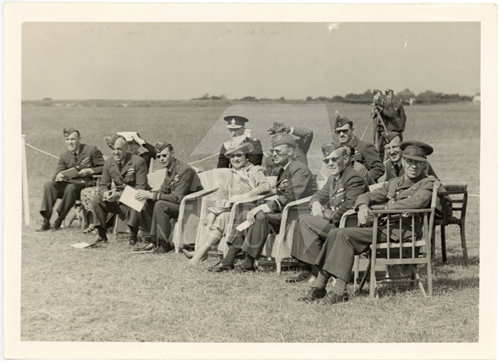 Hervey would train the would-be Glider Pilots on Kirby Kites alongside his work with the Intelligence School. In February 1943 he moved away from gliders and became the Assistant Chief Instructor of the Intelligence School. He was also still on the committee, and honorary vice president, of the Gliding Club of Victoria in Australia. Hervey remained in the RAF as a reservist well into the 1950s. At this point, he decided to devote his time to another one of his hobbies: miniatures.
Miniature making was a hobby he picked up more than twenty years previously when he was living in Australia. Originally, he did this to amuse his young daughter by making small animals from grasses, seeds, and other natural materials. He had created a new type of miniature, termed 'nature mounts', that would become something of a collectable. Supposed collectors included Queen Mary, Queen Elizabeth II, and the Dutch Royal family. Hervey became a member of the Royal Miniature Society, eventually its treasurer and exhibited his work with them regularly over the next 40 years. He also joined his local Parish Council in Bedfordshire, where he lived, and was awarded a lifetime membership to the Dunstable Gliding Club in 1978, aged 83.
Hervey could not stay away from flying and in 1967 he flew in his first hot air balloon from Dunstable. A year later he helped set up the London Balloon Club where he enjoyed regular flights until the age of 90 when, after almost 70 years, he had to give up his pilot's license. He would continue to create his miniatures until his death on 30 May 1990, aged 94. 
This is the end of our blog series on Hamilton E. Hervey MC. We hope you have enjoyed discovering more about his fascinating life!
Bibliography:
Army Flying Museum Collection
Fedorwich, E. K., 'Foredoomed to Failure' The resettlement of British Ex-Servicemen in the Dominions, 1914-1930, unpub, 1990.
Fry, H., MI9: A History of the Secret Service for Escape and Evasion in World War Two, 2021.
Hervey, H. E., Cage Birds, 1940.
National Library of Austrlia, Trove
'Rigger to Pilot – 2Lt H. E. Hervey MC*', Cross & Cockade, Vol. 14, No. 4, 1983, pp. 153-160.
Trove, National Library of Australia, Newspapers & Gazettes: https://trove.nla.gov.au/
Wright, L., The Wooden Sword, 1967.
Written by Kyle Thomason, 2023