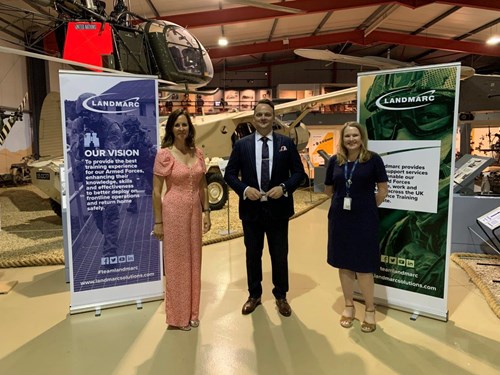 Landmarc Support Services (Landmarc) has consolidated its support for the Army Flying Museum, following a successful partnership over the past nine months, by sponsoring another series of online lectures and becoming a Corporate Partner of the Museum.
The Museum's Lockdown Lectures have provided informative and educational presentations on the history of British military aviation, with recent events covering life as a ground crewman in the Cold War and discussions on Operation Granby in the first Gulf War, as well as seminars on a mix of historic fixed and rotary wing aircraft.
As the series grew in popularity lectures in collaboration with The Gurkha Museum, REME Museum and Soldiers of Oxfordshire Museum helped reach an even wider audience.
The lectures started when the Museum was unable to open to visitors, and gave those who still wanted to learn more about British military aviation, the ability to do so from the safety of their own homes.
With support from Landmarc, which manages the UK Defence Training Estate in partnership with the Defence Infrastructure Organisation (DIO), the lectures have been a huge success. The last two seminars alone achieved over 1,170 attendees, with demand encouraging the museum to continue these lectures into its fourth series.
Mark Neill, Managing Director at Landmarc says, "We wanted to lend our support to the Army Flying Museum, after the undeniable impact of lockdown restrictions, and it's been great to sponsor such a fantastic and well-received initiative. The demand for these lectures has been outstanding, and we are privileged to be able to continue our partnership for another series."
Ella Clayton, Development Manager at the Army Flying Museum says, "We are delighted that Landmarc has expanded its support to become a Corporate Partner at the museum. It provides a great opportunity to showcase their brand to our ever-expanding audience, whilst also directly supporting the vital work of the museum and our post pandemic recovery. We very much look forward to welcoming the Landmarc team to our museum."
The Army Flying Museum is the only museum in the world that tells the extraordinary story of British Army flying. It holds an extensive collection, charting 100 years of the British Army in the air, with over 35 iconic aircrafts on display, making it the perfect place to explore the fascinating history of army aviation.
As a corporate member, Landmarc will enjoy a range of fantastic benefits, allowing staff, clients and stakeholders to share a deep connection with the museum and its community, including free access for Landmarc employees and their families. Employees simply need to show their Landmarc ID at the entrance to gain family access, which covers two adults and up to three children.
To watch the most recent lecture click here 
For more information on Landmarc Support Services, please click here .
To find out more about Corporate Partnerships at the museum, please contact Ella Clayton on development@armyflying.com