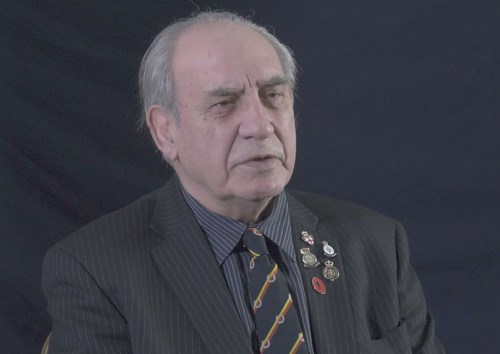 Derek was born in Swansea on 14 December 1939 and was apprenticed as a Vehicle Mechanic at Army Apprentice School, Beachley, Chepstow (1955 – 1958).  He then retrained as an Aircraft Mechanic on No. 10 Course in 1958 at Technical Training School, RAF Middle Wallop.  His first posting was to Malaya, with 656 Light Aircraft Squadron with Auster Mk 9's.  He then returned to the Army Air Corps Centre, Middle Wallop in 1961 employed on Auster and Skeeter.
Having successfully passed Aircraft Artificer Course No. 8 he was posted to 18 Flight AAC, HQ 1 Wing, BAOR in 1963 maintaining Allouette 2, Beaver, Auster, and Skeeter. He was detached to British Guiana, with 24 flight (655 Sqn), 27 Flight (654 Sqn), and 25 Flight, (1 Wing AAC) in 1964 where he met and married his wife. 
After time at Aircraft Engineering Training Wing (AETW), Middle Wallop as an instructor, he completed the All-Arms Commando Course, and was posted to 3 Commando Brigade Air Squadron, (3 BAS) in Singapore. His duties included seaborne and jungle operation on HMS Bulwark and AS Intrepid, including 'Operation Burlap' and flood relief in East Pakistan with Sioux and Scout.  He returned to Plymouth with the Squadron, incorporating the UK and Malta commando flights.
On promotion to WO1 (ASM), he moved on to manage the UKLF Aircraft Standards Team at Middle Wallop returning to HQ Commando Forces in a non-aviation role. After commissioning in October 1974, he had a short time at AETW, Middle Wallop before he returned to 3 BAS Light Aid Detachment (3 BAS LAD) as Officer Commanding in December 1974. In that tour he was deployed to Denmark, Norway, Malta, Cyprus and NI and took the Gazelle through cold weather trials in 1975.  He moved to 70 Aircraft Workshop, Middle Wallop as OIC Production where they completed the first Lynx Major Servicing.
Leaving aircraft engineering for a while, he was posted to 50 Command Workshop, Hong Kong, as 2IC in 1981. This was a unit comprising around 300 Hong Kong civilians, 100 UK soldiers, 50 Hong Kong soldiers and 50 Ghurkha tradesmen. On promotion to Major, he returned to BAOR in October 1983, to 71 Aircraft Workshop, as OIC Theatre Standards and later OC C Coy, and Aircraft Battle Damage.  In 1987 he moved away from aviation again and commanded 2 Field Workshop in the Falkland Islands Logistic Battalion, creating the Joint Force Workshop, and then moved on to Belize Logistic Battalion, as Force Electrical and Mechanical Engineer (FEME) and Office Commanding 16 Field Workshop. Back in aviation, he returned to UK at Netheravon as OC LAD, 7 Regt AAC, incorporating 656, 658, 666 Sqn LADs and 2 and 8 Flight Detachments, operating Lynx, Gazelle, Scout and A109s, He completed his service as OC Training Company, at the School of Aeronautical Engineering Middle Wallop in 1994.
Civilian employment involved various engineering contracts in aviation, covering production and resources management, shipping and dangerous cargo handling including the auditing of Quality and Health and Safety.