Paul Edwards' Mount Kilimanjaro Challenge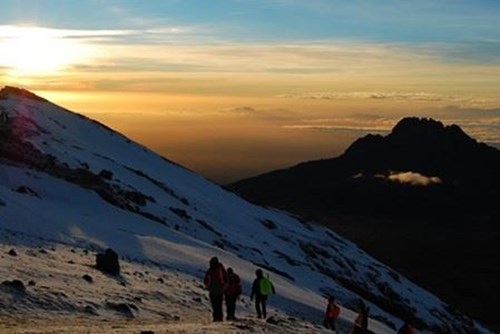 Veteran Army aviator Paul Edwards is aiming to summit Mt Kilimanjaro in September 2021 in order to raise funds for our #AFMHelpUsFlyHigh appeal and the Historic Army Aircraft Flight (HAAF) Trust. The financial effects of COVID-19 have hit us both hard and the funds raised are aimed at enabling the Museum's additional cash flow to bounce back and the HAAF to finish renovating their DHC Chipmunk and a 1942 Army Auster Mk1 aircraft.
At 19,340 ft, Mt Kilimanjaro is the tallest mountain on the African continent and the highest free-standing mountain in the world.  Altitude sickness is the greatest risk in climbing Kilimanjaro. After the decent, Paul plans to dive off the coast on compressed air to a depth below 100ft.   His son John (living and working in another country) will join him in Tanzania for the Kilimanjaro climb.
Paul was planning on attempting Mt Kilimanjaro 09 to 23 September 2021, but COVID-19 restrictions have meant that Paul's departure to Tanzania has been delayed until June next year. Paul will be continuing with the UK aspects of the challenge which includes summiting Mt Snowdon six times (including once by night), Scafell Pike at least four times and the same for Ben Nevis. He will also undertake a gruelling fitness regime of 10km runs and gym sessions through to his final departure for Kilimanjaro.
Paul says "We need to achieve and exceed the funding target because the Army Flying Museum and Historic Army Aircraft Flight (HAAF) Trust must 'bounce back' now rather than in the months to follow. Nothing is impossible". 
Please help our #AFMHelpUsFlyHigh appeal and the HAAF by donating to Paul's challenge. Thank you!